-As a parent of two student-athletes, I am very familiar with how expensive travel clubs and AAU sports have become, so we do our best to keep prices as low as possible while also providing tremendous flexiblity with the schedule, supplementals at no additional charge, and 2 coaches at all Core Sessions.   Since opening OverAchieve over 6 years ago, all decisions are driven by one common constant and that is: How can I make our training program better to allow our athletes the best chance to reach their goals.  At $200 per month for 3+ sessions per week, our monthly membership price remains about 25% less than our competitors (e.g. 2016 Top Speed is at $400 and Aspiring Champions is at $275).
NEW PRICES EFFECTIVE FEB 10, 2017
January 2016
Great visual below of several of our Division 1 female basketball commits that we have been fortunate to have worked with over the last 6 months.  Many of them have trained with us for over 3 years, so very exciting to see them have success.  At OverAchieve, we really take pride in providing local female high school athletes (the same opportunity as the boys), a place to get top level strength and agility training!  This type of training has made a huge difference for our girls in terms of preventing major injury.  Congrats to this great starting 5!
April 2015

Below is a neat visual of some of the Div 1 athletes/commits (with their sport and college of choice) that have worked with us over the last year.  It is missing several inlcuding several of our female track athletes.  What the visual really shows is that we have built a strong reputation among athletes at all levels from elementary school to the pros. 
July 2014
In an independent EMG muscle activity study conducted by Widener University's Department of Physical Therapy, our patented Squatmax-MD hip belt platform was found to have equivalent leg muscle activity as the barbell back squat (the gold standard). This study has been recently submitted for publication to International Journal of Sports Physical Therapy.  OverAchieve, where passion meets science and substance!

Jan 2014
Radnor Red Raider to become a Clemson Tiger!
I am very proud to share the news that Radnor High's Maddie Macrone recently signed her national letter of intent to continue her crew career at Clemson University.  After being introduced to the sport in high school, Maddie dedicated herself to becoming the best rower that she could be and to chase her dream to row in college.  This included putting in the extra work in the weightroom to become a stronger and more explosive athlete.  Having the chance to work with Maddie is a dream come true for me, as her father, Jay Macrone, a former champion powerlifter, was actually my first strength training mentor and a big reason why I fell in love with training.  In fact, knowing the positive impact that Jay had on me and many HS athletes, is one of the reasons I opened up OverAchieve Sports.  With both great genetics and a work ethic to match, I am very much looking forward to watching Maddie compete at the collegiate level!  Go Maddie!! 
Nov 2013
A Trifecta!  3 Division 1 Baseball Players, 3 Terrific Student-Athletes, 3 Quality Young Men!
Conestoga's Austin Shirley, Andrew Born, and Stephen Born!
Every month, I try to highlight some of the exciting things happening at the gym.  This month is very special for me as all 3 of the above-mentioned athletes have worked with OverAchieve every off-season since we opened our doors over 3 years ago! 
As mentioned, these young men are more than just top-level high school baseball players, talented enough to play Division 1.  More imortantly, Austin, Andrew, and Stephen are strong students with a great work ethic on and off the field.  You can see this from the quality of the Div 1 schools that have to chosen to attend.   Austin is headed to Georgetown, Andrew to Davidson, and Stephen to the Naval Academy!
Their HS baseball stats speak for themselves!  From a pure acceleration and quickness perspective, all 3 of these guys are in the top 1% nationally for HS baseball players.  Having worked with Shane Victorino a bit last off-season, these guys are similar from an athletic perspective. As a Bucknell University graduate that made it to the NFL, I really believe all 3 of these guys have that same potential to become professional athletes.  I am confident that all 3 will be successful at the next level.   We are really proud to have had the chance to work with them!  But first things first, lets watch them help lead Conestoga to a state championship this spring!
Oct. 2013
GOOD NEWS FOR OUR ADULT CLIENTS!  At OverAchieve, 41 is the new 29!  
Congrats to Raul Ibanez for his historic season!   
Great Summary pasted below about Raul's amazing season at 41 years-old!  Another OverAchieve athlete overachieved!
Raul Ibanez hit his 29th homer of 2013 and 300th career homer Saturday versus the Angels last week.
The 29 homers tied Ted Williams for the most ever for a 41-year-old. It was just five homers shy of his career high, despite having only 436 at-bats this season. He's topped 600 at-bats four times in his career, but he's never posted such a strong home run rate before.
Sept. 2013

Several updates this month!  First off, just a shout out to another freshman college athlete making a big splash right from the start.  Volleyball player Casey Griffith is that rare athlete that brings it all- tenacity, talent, and a tremendous work ethic!  Please see below photo and caption pasted from the UMBC athletic site.
Secondly, I wanted to share some data below from one of our female soccer players who is an elite level high school soccer goalie.  Her father was kind enough to share her data from an elite goalie camp that she attends in North Carolina every summer.  The athlete trained with us for about 5 months before attending the camp.  Of note, she had previously trained at one of our local King of Prussia competitors (Premiere Sports Academy) prior to joining our program.  The difference between our program and others in the area is that we are running a true Div 1 strength program while most of our competitors are just doing random circuit conditioning.  So their athletes neither get stronger nor more explosive.   The key indicator in the below data is the improvement in her vertical jump.  Vertical jump is a universally accepted measurement for determing overall power.  As you can see, she went from 15.5 to 19 inches!  This is just one case study but the results support what we see in the majority of our female athletes who committ for at least 3 months of consistent training.
July 2013
Below is a picture of our belt squats shown inside the Tampa Bay Buccaneers state of the art training facility.  The Bucs actually have purchased 6 of our devices.  To see our patented device being used by several NFL and MLB teams is hard to believe.  We have recently redesigned the device to allow the lifter to use resistance bands.  So a great product just got more better!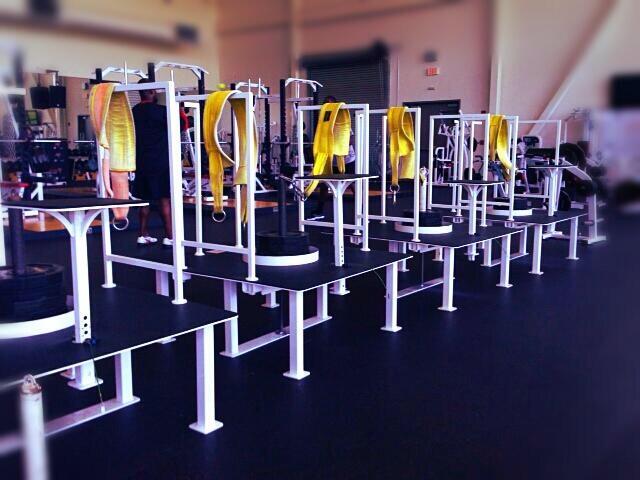 May 2013
Congrats to Methacton HS Sophomore Nicolette Serratore who won gold at the PAC-10 championships when she soared 37-11.75 in the triple jump (which was 11 inches beyond her previous best). This jump also set a new PAC-10 record!!  Besides being blessed with a lot of raw talent, Nicolette also has both a great work ethic and an amazing focus and inner drive.  That she is only a sophmore is hard to believe!  There is no doubt that Nicolette will continue to do great things in her HS career and beyond.  
 April 2013
We are again excited to offer weekly half-day speed and conditioning camps for 9 to 13 year olds this summer.  Each week, our camps will focus on a specific sport  (soccer, football, and baseball/softball).  The sport-specific skills portion of the camp will be coached by an experienced trainer/coach in that particular sport.  In other words, our camp is one-stop shopping for parents looking for both top notch speed and sport specific training.  Camps will run Monday through Friday from 9  AM to noon each day. 

A typical camp day will include: 60 minutes of speed and conditioning training, 45 minutes of individual sport skills, and 45 minutes of "fun" games that reinforce agility, movement, and coordination development.  Please contact Brian at 267-218-4042
267-218-4042 with any questions.

Mar 2013
I am happy to report Raul Ibanez is having an amazing start to his spring with the Mariners.  After 2 weeks, he is hitting .538 and absolutely crushing balls.  It has been a pleasure to have Raul train with us the last 2 years.  He really believes in both our patented belt squat platform and our Smax training system. Raul is such a good humble guy, he often would work out with the High School kids training at our gym. 
Having played in the NFL and also having trained several NBA players, I have been around my share of explosive athletes.  However, I can honestly tell you that Raul is one of the more explosive athletes I have seen.  He is a fitness fanatic who has worked hard in the weightroom for over 20+ years, so his absolute strength is impressive.   
However, over the last 2 winters while training here with us at OverAchieve, we felt a key ingredient to allow him to better maximize his absolute strength was to get it more in line with his relative body strength.  This goes hand in hand with getting quicker and more athletic.  Additionally, our patented belt squat has allowed him to maintain his absolute strength without adding unnecessary stress to his shoulders and spine.  Plus, our belt squat really does some amazing things in terms of activating the stabilizing muscles in the feet.  I have to again say that I am very scared for the pitchers that Raul will face this year!  This is a 225 lb guy who can do 15 pull-ups and jump up onto a 24 inch box while holding 65 lb dumbbells in each hand!  His 20 yard dash has gone from just average 2 years ago to above average and his feet are balanced, strong, and ready to go!  This is a man with a 40 year old brain and a 25 year old body!  There is no doubt in my mind that Raul will reach his goals for this year and it is going to be exciting to watch!  I would not be surprised if Raul leads the Mariners into the playoffs this year.


Feb 2013
OverAchieve does not do much marketing.  In fact, it is a business that has been built primarily on word of mouth.  Athletes continue to come to OverAchieve because we do things the right way.  We offer full service strength and speed programs that can only be found at Div 1 colleges.  Below are 2 athletes that have worked with OverAchieve for over 2 years.  In fact "Rad" is one of our first clients.  Congratulations to both Katie and Julianna "Rad".
Katie Catania has really burst onto the scene as a college freshman!  I have pasted an amazing update below.  Katie was blessed with a lot of God-given talent but she also puts a lot of hard work in behind the scene, both in the weightroom and on the track. Congratulations Katie!
Katie Catania Women's Track and Field 1/14/2013

Katie Catania broke school records in the long and triple jumps and moved into KU's top 10 in another event as Kutztown hosted the Golden Bear Invitational.  Her long jump of 18-2.5 broke the school record by 3.5 inches and won the event. Her her hop, skip and jump of 38-7 in the triple jump demolished the KU record by seven inches.  In the 55-meter dash, she finished second in the race and became the fourth fastest individual in KU history with a time of 7.38.

Spring-Ford junior midfielder Julianna Radzinski has made a verbal commitment to play Division I lacrosse at the University of Cincinnati.  It has been amazing to watch Rad mature into the phyically strong and agile athlete that she has become.  Along with adding strength and muscle, Rad has only gotten faster.  Her ability to accelerate is scary!  Rad is a great role model to the younger female athletes in the gym because she continues to work hard at improving.  As the father of a 7th grade female athlete, Rad is an example that I can point to of someone who had natural athleticism but does all the other work to differentiate herself from the competition.  The will to win is nothing without the will to prepare to win!  Both of these athletes are great examples of this!

Jan 2013
Happy New Year!  It is an exciting time at OverAchieve as we have just finished our expansion project and I am happy to report that our new flexible turf area is open for business.  The 75' x 40' area includes the widest hitting tunnel in the area (24') and when not being used for baseball and softball, the netting can be quickly moved to provide a great space for training individual soccer skills. 
This area enables us to offer parents and coaches the convenience to have their athletes recieve both top-notch sport specific skill training as well as professional strength and speed training in one convenient King of Prussia location.  We have partnered with several high caliber instructors (baseball, softball, soccer, and yoga) and are proud to offer opportunities to train with them onsite at OverAchieve!  Please visit the "sport-specific skill training" site page to learn more about them and to see links to their websites.  
The turf and batting cage are also available for rent to youth teams looking for a more affordable indoor turf option to work on individual skills with their teams. 
Already, the new space is being well received as we hosted several coaches clinics for Berwyn Paoli Little League.  The clinics included instruction by Former Phillie and current Mariner Raul Ibanez.  We were also excited to have Shane Victorino come in and join Raul for some speed and strength work.  Our wide tunnel is attracting interest from several local major league players.  
Please be on the lookout for upcoming information on our half day summer camps.  Our speed and conditioning camps are a great way for your youth athlete to stay in shape and to get ready for their upcoming fall season.  
Sept 2012
The winter small group training schedule has been published.  Unlike other centers that have a one size fits all approach.  We have designed our weekly and daily schedule to focus on different physical attributes each day.   For some athletes, the rate limiting factor for them to improve may be conditioning, while for others, it may be absolute strength.  Based on our assessment of the athlete, within our group training sessions, we have the flexibility to design an individual curriculum that best matches the athlete's need.  For example, one athlete may be advised to perform strength training 3x per week with us, while another may be doing 2 bootcamps (metabolic conditioning) and 1 speed session each week.  All new athletes will be assessed at their initial baseline visit.  We are looking forward to another great school year! 
May 2012
In our February update, I was excited to report that Raul Ibanez had signed with the New York Yankees.  We discussed his training regimen with us and his amazing explosiveness going into the season.  Anyway, after a month, Raul is turning heads in New York and it could not happen to a better person!  I have pasted (below) some excerpts from a recent fantasy baseball report on him.  Note the emphasis on his power and speed!
Sipping from the Fountain of Youth, Ibanez has posted numbers most owners would fawn over if not tallied by an supposed over-the-hill hitter. His .273-7-21-10-2 line over just 88 at-bats checks in at No. 38 among eligible outfielders and No. 147 overall, ahead of coveted juniors Justin Upton, Alex Gordon and Drew Stubbs.  Even more impressive, Ibanez ranks second to Josh Hamilton in no doubters according to Hittracker. Balls off his bat are sailing, not sneaking, over the fence, an excellent indicator of bat speed and strength. Despite his advanced age, the man needs no Boniva. And based on his two steals (In the past, pandas mated more frequently than Ibanez stole bags), he apparently doesn't need a motorized scooter either.
As New York manager Joe Girardi remarked earlier this week, the lefty has delivered many timely connections. From the Daily News:
"It's been incredible," Girardi said. "It's one thing to have 20 or so RBI, but it's another thing to have the 20 RBI, the type that he has. How big they've been for us. A lot of them have been game changers for us and that's what he's done for us.
On a 33-homer, 100-RBI pace, it's fathomable he could outpace or finish within striking distance of heavily owned boppers like Corey Hart, Matt Joyce and Josh Willingham.
As Fantasyland continues to fawn over a 19-year-old .232 hitter with anger issues (Bryce Harper), New York's Old Man River quietly rages.
Also, a special shout-out to another high performer, Senior Katie Catania, from Methacton High School, who capped off her brilliant outdoor track season by winning first place in 3 out of 4 events at the PAC 10 league championships!  Congratulations Katie!  Your hardwork and focus this year was a pleasure to follow!
April 2012
In April, we moved and upgraded our facility to the 2nd floor of the Competitive Edge Building.  We are thrilled to be training athletes in our new private space.  The larger space includes an additional 2 lane 25 yard turf track as well as a separate sitting area for parents.  We recently put up a new sign (pasted below) which I think says it all, in terms of why your athlete should be training at OverAchieve!  Unlike the old cliche of "you get what you pay for", at OverAchieve, you get much more! 
February 2012
I have two pieces of exciting news to report regarding athletes that train at OverAchieve!  First, in the December update below, I wrote about a HS female track athlete that recently broke her school's 55 and 60 meter dash records and at the time, she was still on a mission to long jump 18 feet!  In fact, this was her main goal for joining OverAchieve.  Well, I am happy to report that she has done it!  This past Friday at the PA Meet of Champions, she jumped 18' 3"!  I was excited to be there in person to see her jump.  Oh by the way, she also qualified for States in 4 events!  It is great to see dedicated athletes set a goal, work hard, be persistent and consistent in pursuing and then to reach it!
Other exciting news occurred this week as Raul Ibanez has signed with the NY Yankees!  Having played in the NFL and also having trained several NBA players, I have been around a lot of explosive athletes.  However, I can honestly tell you, Raul Ibanez is leaving for Spring Training as one of the more explosive athletes that I have seen.  This is an athlete who has worked hard in the weightroom for over 20 years, so his absolute strength was already impressive.  However, what we felt was a key ingredient to allow him to better maximize his amazing absolute strength was to get it more in line with his relative body strength.  Additionally, we felt that his feet could be stronger and his proprioception could be improved, in particular, working on keeping his weight on the inside balls of his feet.  Well, after 8 weeks of dedicated, hard training, using our soon to be patented S-MAX system (Speed-Maximization Algorithm), I have to say that I am very scared for the pitchers that Raul will face this year!  This is a 225 lb guy who can do 15 pull-ups and jump up onto a 24 inch box while holding 65 lb dumbbells in each hand!  I saw his 20 yard dash go from average to above average and his feet are balanced, strong, and ready to go!  This is a man with a 39 year old brain and a 25 year old body!  For the student athletes I train, Raul is a great example and inspiration, as this is a guy who despite being a pro for a long time, continues to work as hard as anyone at his sport.  There is no doubt in my mind that Raul will reach his goals for this year and it is going to be exciting to watch!
December 2011
I just got great news that a female HS athlete that I worked with for the last few months has broken her school's record in the 55 meter dash (in only the second indoor track meet of the season).  I am very confident that in the next several weeks, she is also going to do great things in the long jump.  18 feet is her goal in this event and I know she will get there!  In 2 months of consistent hard training in which she attacked every workout, her relative body strength greatly improved going from 2 pull-ups to 8.   Lower body wise, she worked primarily with my patented hip belt squat device in concert with several key plyometric exercises and she increased her vertical jump by several inches and knocked off a significant amout of time in her 20 yard start.  
She is a pretty dynamic athlete that just needed the correct curriculum and intensity.  For most athletes that really want to improve, strength and performance training needs to be a career commitment if they want to maximize their athletic potential.  I started working out in 9th grade and did not miss more than a handful of workouts through my entire career from HS to the Pros.  This is the reason, I was able to increase my vertical jump by 12 inches and my 40 yard dash by almost a half second from when I was a HS senior to when I was a college senior.  
I remember literally breaking into my HS gym on Thanksgiving day because I "could not afford to miss my workout"!  I was worried that my competition was working harder.  I believe every workout missed is a workout that you will never get back.  One less chance to reach your full potential as an athlete.  If a workout was a piggy bank, it would be a special one that only allows you to deposit one nickel each time and there is no ability to double up to a dime at the next deposit (workout).  The foundation is built slowly over time and one workout at a time.  The athlete that puts that nickel in every day, every month, every year, is the one at the end of their career that will have maximized their potential.   
November 2011
Determined athletes come in all ages and sizes.  The best part of my job is working with athletes that want to improve.  The slogan at my gym is that "you don't have to be a blue chip but you have to carry a big chip".  What I mean by this, is that I would rather work with an average athlete who is determined to improve versus an athlete who has natural ability but takes it all for granted and does not work hard.  The above photo is a 6th girl who was born with a lot of God-given talent but more imporantly, with a burning desire to keep improving.  I have been fortunate to work with her on running mechanics since she was 8 and now she is busy breaking many of the Philadelphia Archdiocese CYO track records.  "The will to win is nothing without the will to train to win"! 
October 2011 Update
The hip belt squat device that we created and patented has had some very exciting news recently.  In June, we sold multiple units to some Division 1 football programs, and next month, Powerlifting USA magazine is doing a feature article on the device.  The fact that these experts in the field of strength training are finding our device effective is a real  validation for what we have created. 
I have added 3 of my devices to my own gym.  As a strength coach, I am thrilled to be able to offer my athletes the great benefits of the free weight squat without any risk of spinal and shoulder injury.  I recently had one of my NBA clients use it for the first time and he just loved it!  
I have a lot of great marketed equipment in my gym and I honestly feel doing box squats on my device is the most effective movement for improving athleticism.  I recently had a HS basketball player gain 7 inches in his vertical in just over 3 months.    See the link to the Powerlifting  USA  article below:
May 2011 Update (5/20/2011)
New Class: Prehab beats Rehab in Female Athletes
We are excited to offer a strength and conditioning class for female athletes designed and led by Shauna Thomas, a licensed physical therapist.  The specific focus of the class is on preventing major sports related injuries in our female athletes.
This 6 to 8 week preseason program is designed for ages U12 and up.  It is perfect for entire teams.  Class size is 10 to 16 athletes and the 60 minute class will meet 2x per week.   
The class draws from multiple exercise and sports medicine disciplines to ensure a complete and balanced injury prevention program. 
The trainer, Shauna Thomas, is amazing.  I cannot give any higher complement than to say that I would send my own daughter to her!  Shauna is not only a licensed physical thearpist; she is also a former high school and collegiate varsity field hockey player who actually suffered from 2 torn ACLs during her career.   Shauna's background includes a Bachelor's degree in exercise science and being a certified strength coach through the NSCA.  Shauna has a passion for strength and conditioning, which began in college while working with some very inspirational coaches.  Through her own experiences as an athlete and physical therapist, she enjoys teaching athletes of all ages the proper and safe way to train for any sport. 
We are excited to bring this program to OverAchieve Sports! 
Vertical Jump Data
Since I had the opportunity to work with several HS volleyball players over the winter, I wanted to analyze my most recent vertical jump data from baseline to a post-test (approximately 12 weeks) after starting the program.  The sample size was limited to HS athletes that started after January 15, 2011 and for which I had a baseline vertical measurement (n = 14 athletes).   The average increase in this group from baseline to a 3 month post test was 3.1 inches.  I have to admit, this was better than I expected and is both a testament to what we are doing in our program and most importantly, the dedication of these athletes to consistently show up and put the hardwork in!   
MARCH 2011 UPDATE (3/6/2011)
It has been an exciting week in the evolution of the squat machine that I have recently created and for which there is a patent pending.  This past Thursday, I delivered a prototype to the Rutgers Football program and there were several current NFL players (including Bengal's running back Brian Leonard) who took the machine for a test run!  I am thrilled to report that the machine was well recieved and all the NFL players felt it was an improvement over similar devices that are currently on the market.  In fact, Brian Leonard liked it so much, he decided to build it into his leg workout for that day!  One strength coach in attendance said he found it to be "raw and organic and a true free weight movement".   
The fact that Div. 1 strength coaches and NFL players are finding our machine to be both unique and effective definitely validates what we have developed.  My original goal was to develop a safer way for my own athletes to get the peformance benefits of a free weight squat.  However, considering the number of high school athletes that get hurt annually doing squats, I am excited to know that once our model is marketed, it can be a great addition to high school weight rooms around the country.  Until then however, it can only be found here at OverAchieve Sports and Speed, where it was created!
JANUARY 2011 Update and First Year Review
As a start-up company this past May, I am proud to report that as we begin a New Year, OverAchieve is doing well and our athletes are improving.  We are currently working with over 50 active athletes.
Athletes are Getting Faster  
For me as the founder and lead trainer, there are various ways to measure success and to evaluate the quality of what I am doing.  Obviously, a key measure is the raw data!  Are the kids getting stronger and faster.  I am thrilled to report that on average, those athletes, that have participated in our 3x per week program for at least 2 months, have improved .34 seconds in the 20 yard dash.  This sampling includes all athletes (grade school to varsity high school and college).  To put this .34 second improvement into perspective, for most of my athletes, this translated into going from average to above average and in some cases, it moved athletes to an elite level (top 5%) of the national average for their age. 
Increased Self-Confidence
Watching a determined athlete go from not being able to do more than 2 pull-ups to now doing 10, is an amazing feeling.  Increased Relative Body Strength equals increased speed but also increased confidence!  A more confident athlete is going to be a more successful athlete.  In addition, the value of learning hard work, persistence, and commitment in pursuit of one's passion cannot be measured!
Repeat Customers 
The other part of our report card that tells me that we are doing things the right way, is that over 90% of our initial class (summer) of athletes has returned to OverAchieve after their fall season was completed.  Additionally, 90% of athletes that sign up for an initial 1 month period, go on to sign up for at least a second month!
Creation of an OverAchieve Original 
The final bit of exciting news is that since I started this venture, I have been trying to create a safer way for my athletes to get the tremendous strength benefits of performing a free weight squat movement.  Thru trial and error, we have been able to create a customized device that is so unique and effective, we have actually filed a US patent on it.  In fact, several Divsion 1 football programs are so impressed with it, I have provided them with the current prototype.  However, until it is on the market, you can only find it here at OverAchieve! 
Thank You! 
I want to thank all the OverAchieve parents and friends for your support and I look forward to helping your athletes continue to reach their short term goals and chase their long term dreams!